The public consultation for the application of sui generis status for the Royal Vauxhall Tavern is now closed.
Thank you to everybody who's raided their inboxes and shoeboxes for the sake of the Tavern – we promise to thank you individually after we've waded through the immense amount of evidence.
We cannot be sure of the exact figures but we think somewhere in the region of 350 people have, between them, submitted thousands of pieces of individual evidence to Lambeth Council. We are confident that we've provided enough evidence for each month of 2006 – 2016 two or three times over.
The outcome of the public consultation will not be known for at least a fortnight at the very earliest.
Whatever Lambeth Council's final decision, we would like to invite Immovate to pick up the phone and talk to us about safeguarding the future of the Royal Vauxhall Tavern as a thriving LGBTQ+ performance venue.
We would also like to thank James Lindsay, Jason Dickie, Catia Ciarico and Jason Reid from Royal Vauxhall Tavern London Ltd for their support and cooperation in this crucial stage of the campaign.
Finally, a huge thank you to the Mayor of London Sadiq Khan for pledging to do whatever it takes to save and protect the RVT from developers.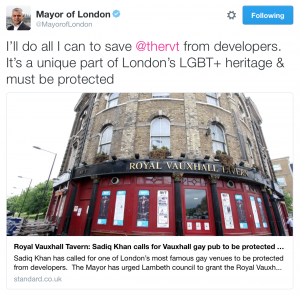 This is by no means the end of our campaign. Immovate's opposition to this application further proves that we have to bring the Royal Vauxhall Tavern into community ownership to protect it once and for all. For that we need extra support from fundraisers, investors and campaigners  – if you have any skills or ideas that you feel would benefit our campaign to bring the RVT into community ownership please get in touch: hello@rvt.community
You can also stay up to date with developments by signing up to our newsletter: http://www.rvt.community/contact/
We will be making a statement about the future of the Royal Vauxhall Tavern in the coming weeks.
In the meantime give yourselves a BIG pat on the back and get down to the Lipsinkers tonight for a well earned lemonade.