The fantastic artist Baz is turning the RVT's unique history into a series of comics. He tells us why it's a perfect medium for the place he loves.
Sometimes you find yourself at the end of the bar, next to an august and aged queen – an extraordinary figure who must have a thousand amazing stories, if only you could get talking. But it isn't always easy to know where to start.
In some ways, the Royal Vauxhall Tavern is that queen. We all know she's had a remarkable history but – short of diving into RVT Future's 30,000-word listing application – that history can remain out of reach.
Now one RVT Future supporter has launched a unique project to bring that past to life with clarity, wit and passion.
TALES OF THE TAVERN is a new monthly series of one-page comics by Baz, a professional editor and comics creator, and a Tavern regular of 14 years' standing.
Each month, Baz revisits a key moment in the RVT's 150-year history, from incidents of glamour and conflict to more quiet, subtle windows into the lives of our LGBTQ forebears.
To coincide with LGBT History Month 2016, the series starts with Baz's typically wry take on one of the venue's most outlandish events: the secret visit to the RVT of Princess Diana, dressed as a boy, in 1988.
You can read the comic here and discover more about the true story that inspired it here.
And to mark the launch, we caught up with Baz to find out more about this labour of love.
RVT FUTURE: Hi Baz! Every panel of TALES FROM THE TAVERN bursts with love for the Royal Vauxhall Tavern. What does the RVT mean to you?
BAZ: An awful lot, to be honest. I spent five years in London thinking there was something wrong with me because I didn't dig the Soho gay scene. But just one trip to Duckie in 2002 was enough to open up a whole new world. The Tavern is the place where I've met many of my closest friends, and it's where I go to let my buzz-cut hair down and regain my perspective. London life without the RVT is pretty unthinkable.
Why are comics a good form to celebrate the RVT's history?
We're living in an era of media overload and short attention spans. At their best, comics have the immediacy of an ad campaign, which helps to get a message out there. But at the same time they leave a lot unsaid and unseen, and that means viewers think quite hard without actually realising it. The Tavern has an extraordinary history but there's actually fairly little documentation, so I hope that these comics will bring a little of that past to life.
What has surprised you while researching the series?
Probably the RVT's pioneering spirit and its ability to survive. It was the first building to rise up out of the debris of the Vauxhall pleasure gardens in around 1861, ahead of the Victorian terraces constructed in the years that followed. When those same homes were pulled down from the 1960s onwards, the Tavern remained standing. It's a building with attitude.
What do you hope readers will get from this series?
Stories are such a vital way of relating to other people. Without the tales we tell about it, the RVT is just a stack of bricks and some old iron pillars. LGBTQ rights have moved on so much in the past few decades, to the extent that I sometimes worry new generations may grow up complacent, with no real concept of what it was like for their forerunners. I hope that in some small way these comics will connect the generations of boys and girls who have been the lifeblood of the RVT.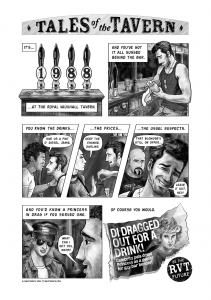 What are your hopes for the long-term future of the RVT?
So much positive energy has been ploughed into the RVT Future campaign, and the Grade II listing is a phenomenal achievement. But I hope that the building will ultimately pass into community ownership so that its future as a queer venue becomes a given. The cause has brought so many people together. With the Tavern as a guaranteed base, that common passion could be harnessed for so many terrific projects.
TALES OF THE TAVERN will appear on the RVT Future website at the start of each month.
To see more of Baz's work, visit bazcomics.com and facebook.com/readbazcomics.